Driving safely at any time of the year is always a necessity. It becomes even more demanding to take extra caution when winter draws near as the weather condition is often not predictable.
In Ontario, and neighbouring areas, the weather has proven unpredictable even for skilled meteorologists, which means every driver needs to prepare for the worse. What then should be put into place in cases like this?
We have highlighted a few tips to help every driver make informed decisions when driving during a storm or on a bad road. Also, general information on Canada driving conditions in winter has been carefully written for all to learn.
Ontario Driving Conditions During the Winter Months
The winter months in Canada are known to bring freezing rain and slippery roads with snowfall, resulting in a power outage that can last days. Many car crashes have been recorded in winter months, mostly because visibility is low and surfaces are slick. With the weather and road conditions being unpredictable in Canada, Ontario, drivers need to exercise more caution. Hence, this period is not one to be overlooked as every detail matters.
How To Prepare for Driving in Bad Weather
When the bad weather season approaches, there are certain things you need to consider as you prepare yourself for the storm. Why is that? Preparing yourself and your vehicle before moving out in the storm is highly important as it guarantees your safety.
However, you should stay clear of those icy roads during those winter months if you can. But if you have to go out for important reasons, take the bus so you won't have to drive.

Yet, you can drive on rare occasions, and these are the things you need to make preparations for before leaving the house:
Check your car to be sure you don't have any car warnings
Make sure you have sufficient gas for the journey.
Look at the head and taillights for faults and fix them.
Thoroughly clean the windows, mirrors and lights to enhance visibility.
Make sure your battery and fluids are in good condition.
Have an emergency kit handy which should contain basic needs such as food supply, flashlight, blanket and any other thing you would need.
Chain your tires before the snow comes in full force to protect them.
Take your well-charged phone along with you.
Confirm the weather condition before leaving to know what to expect.
Don't forget to tell someone or as many people as you can find of your journey.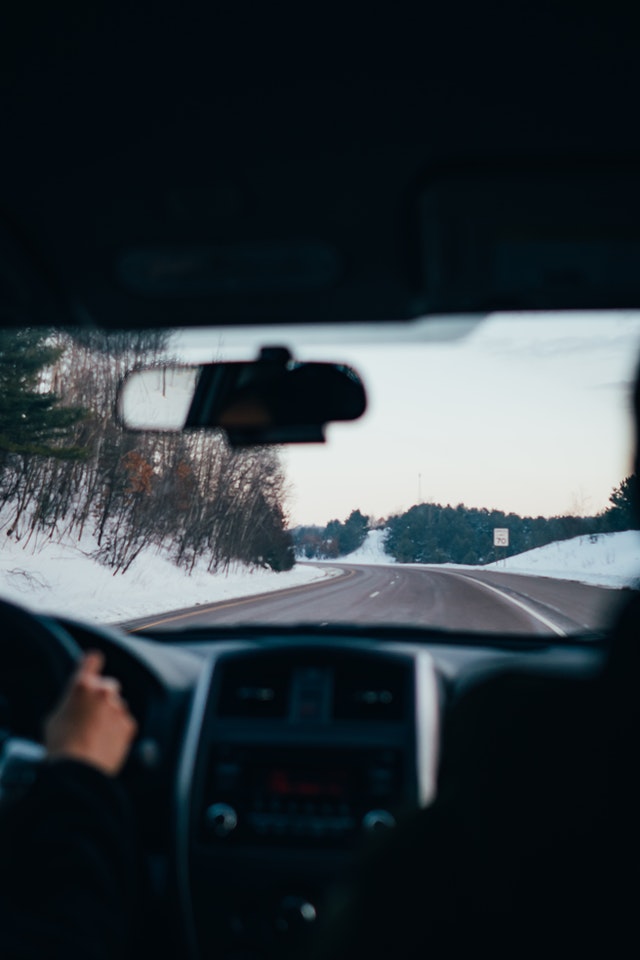 How to Adjust Your Driving for Safety in the Winter?
It is not advised to drive during the storm or on an icy road, but when you have to, you would need some extreme caution up your sleeves to navigate safely. Being careful cannot be overemphasized in this condition as there is always a great need to do so. Some of the proven tips you will find helpful when you drive on those slippery roads are listed below.
Driving should be done with great caution, which involves driving slowly.
Give more space between your car and the next one in front.
Don't wait till you see a sign clearly before you brake; brake earlier.
Braking and turning immediately is dangerous, don't do that.
Don't stop listening to the weather forecast as you move to hear what places to avoid.
Consider the pedestrians and bicyclists carefully as you drive.
Learn from other cars on the roads to avoid what they did.
Another great tip is to utilize the interactive winter road maps available to those in Canada. Use the tools to drive through safe routes.
What do you do if your car skids or slides on ice?
When a car skid or slides, the first thought is to panic, but it always ends up bad if you take that path. Instead, even with the tips mentioned above, what you need to do is simple when accident happens. First, remove your foot holding the brake and also the gas. When you have done that, you will make the tires ready to move in the direction you have in mind, so look around for your best spot and steer the wheels. The secret is to be as calm as possible so you can use this tip well and get the best from it.
How To Drive Up a Hill on Icy Roads?
If you live in the hills, you will agree that the roads up there can be very icy to drive through in winter. So, the best bet for you is to park your call beneath the hills, so you won't have to worry about driving it up and down. However, if you have to, you need to drive with a strategy. First, gather momentum as you move up and keep your foot off the gas until you reach the incline. If you put your foot on the gas at the middle of your ascension, it can cause the tires to spin and slide downwards, so avoid doing that.
You might want to try chaining your tires if the hills look insurmountable. It will be safer for you and your tires to do so.
Has Your Car Been Damaged in an Accident?
We're Here To Help!
We must keep giving you tips on driving safely during winter and any other season, but if accidents occurs, we are here to help. If you need an auto collision repair shop that will give you the best, Mann Auto Collision Centre is a shop you can trust.
Mann Auto Collision Centre has been delivering excellent auto repair services In Ontario, Canada for 20 years, and we are still in business. If you have been involved in an accident, don't let the stress get to you; instead, repairing it and moving it back on the road is an excellent way to make a difference. We help with the process and make it seamless and straightforward. Don't worry; we will work with your insurance and do all the paperwork, so you won't have to lift a finger!